East Jordan Sno-Mobilers, Inc.
1967 and still going...
The Snowmobile club is a non-profit organization that promotes the recreation of snowmobiling for the entire family. The East Jordan Snowmobile Club was established in 1967. Our clubhouse is located at the beginning of the Jordan Valley Trail system, 5586 Mt. Bliss Road, East Jordan, Michigan. We have 100-120 members. The clubhouse features an open hearth fireplace and a warm friendly atmosphere. The clubhouse area is also a designated staging area for the Jordan Valley trail system. New members are always welcome. So, come browse our web pages and see how beautiful Northern Michigan and snowmobiling in the Jordan Valley is. Feel free to check out our facebook page too at East Jordan Sno-Mobilers, Inc.
Snowmobile Safety Class--Saturday, November 7, 2020
Class is always the first Saturday in November and held at the clubhouse, 5586 Mt. Bliss Road, East Jordan, MI. If you missed it last year...please plan on it this year. Registration is required, please contact Alan Kava at (231)497-9260 or Don Massey at (231)536-2944. Hope to see you. Lunch is provided. Class is from 9 a.m.- 3 p.m. There is no charge for taking the class. If an adult wishes to take class with their child, this is o.k. A parent or guardian must accompany children under 10. Children who have trouble reading, please let an adult know and we are there to help with this.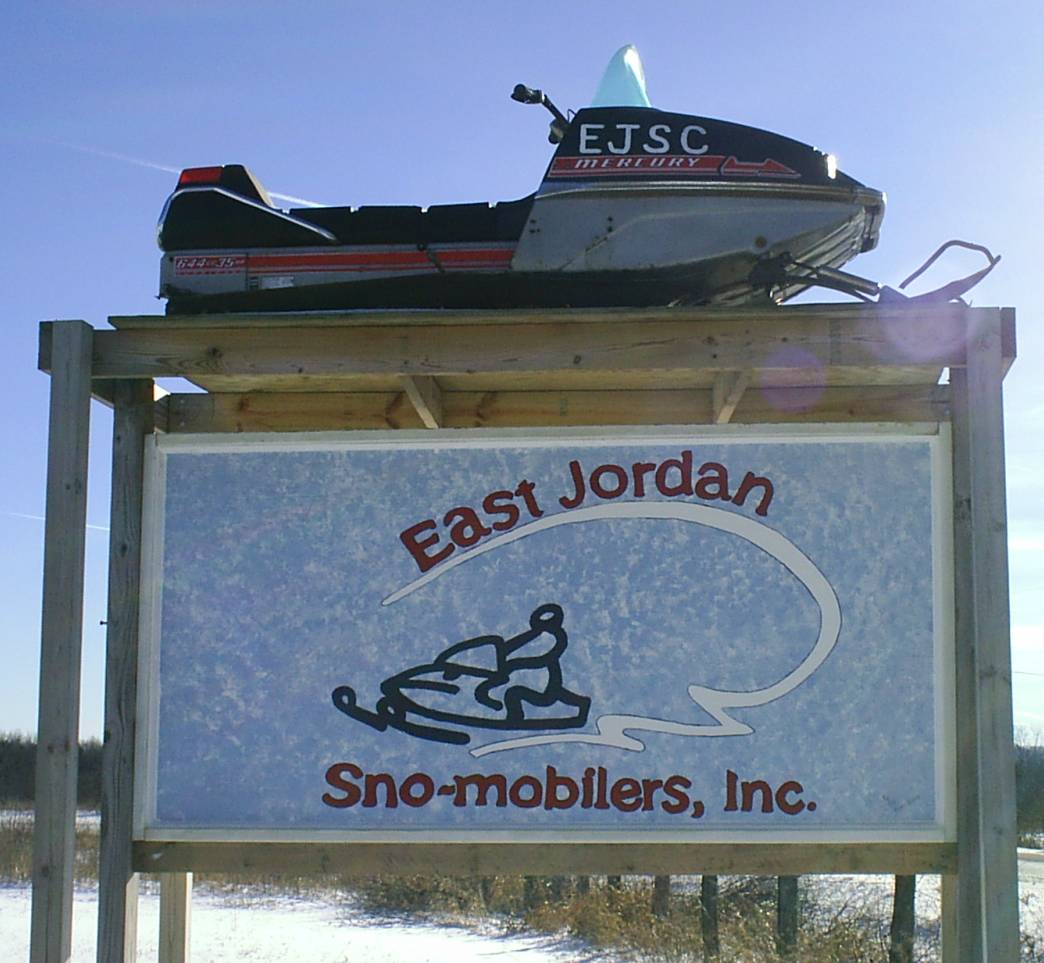 If you would like to ride snowmobiles on Wednesdays (in the winter), the guys leave the club at 9 a.m.
E.J. Sno-Mobilers, Inc.
P.O. Box 80
East Jordan, MI 49727

There is a trail closure we regret to inform you about that you may encounter on your ride. Part of trail #4 just North of the East Jordan Snowmobile Club, at the intersection of M32 and Rogers Rd. toward Ellsworth and Charlevoix. The route into downtown East Jordan will remain open for access to town.
They are still working on reroutes. These this trail are still CLOSED for the 2019-20 year.
They are working on a trail to Ellsworth. But this trail is still closed.
A VERY FRIENDLY PLACE
We are a TRAIL HEAD. We have lots of room for parking your trailors.
Park your trailors and hit the trail.

Our Club Officers for 2019-2020 are: President- Don Massey, Vice-President- Alan Kava, Secretary- Connie Massey, and Treasurer- Mary Kaley.
Our meetings are the 4th Monday of every month with a potluck supper beginning at 6:30 p.m. meeting begins about 7:30 p.m. If you would like to join us. Everyone is welcome.
Breakfast are always from the first Sunday in December to the last Sunday in March. So come on out. We are open from 7 a.m. to noon. Adults can get the "WORKS" for $7 and children 10 and under can get breakfast for $4.
Sno-Blast is February 21-23, 2020. For a list of what is going on...check out the East Jordan Sno Blast facebook page. Our meetings are held at 6 p.m. on 2nd Thursday's of the month. Come on out and join us. Everyone is welcome.