Maps from Clubhouse to East Jordan
Check out the new map to get into and around town
The Jordan Valley snowmobile trails open on December 1st.
Historic Snowmobiles "26 years old" and older can now register as historc snowmobiles for a one time fee of $50.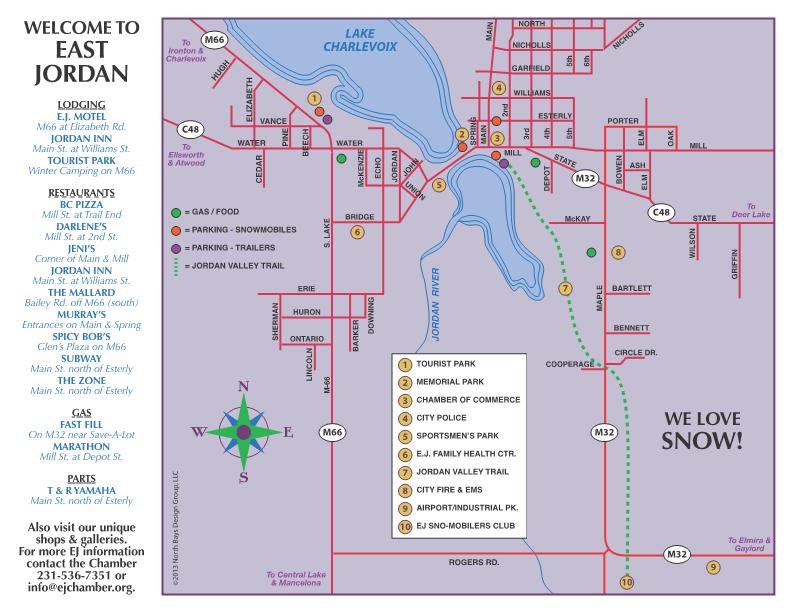 ???DID YOU KNOW???
*There are approximately 1.64 million registered snowmobiles in the United States.
*There are 301,805 registered snowmobiles in Michigan.
*There are 225,000 miles of groomed and marked snowmobile trails in North America.
*There are 6,000 miles of groomed trails in Michigan.
*There are over 3,000 snowmobile clubs worldwide.
*In 2002, there were 203,153 snowmobiles sold worldwide.
*At its peak there were about 150 different snowmobile manufacturers worldwide. Only four major snowmobile manufacturers are left.
*The number of licensed snowmobile dealers in the United States is 1,560.
*The average age of a snowmobiler is 42.
*The average household income is 70,000.
*The average snowmobiler rides their snowmobile 960 miles per year.
*The average snowmobiler has 18 years of experience riding.
*The average snowmobiler spends 4,000 each year on snowmobile related recreation.
*The average retail price of a snowmobile in the United States is 5,800.
*65% of snowmobilers trailer their sleds to go riding.
*75% of snowmobile owners are married with 0.8 children living at home.
*37% of all snowmobilers are 50 years of age or older.
*Polaris is credited with the first production snowmobile.
*The East Jordan Sno-Mobilers, Inc. was founded in 1967 and the corner stone of this clubhouse was laid on Sept. 3, 1968.
*The East Jordan Sno-Mobilers started serving Sunday breakfast in 1969 and have done it every snow season since.
*The cost of an average groomer is approximately 100,000.